Contact Us
 165 Main Road, 7945 Muizenberg, Cape Town – South Africa
 +27 (0) 83 41 40 567
Click on the picture to see the map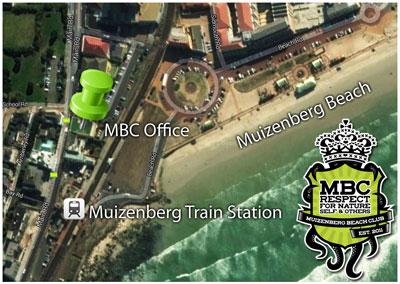 Directions by train:
From Cape Town, take the train in the direction of Simon's Town (via Wynberg) and exit at Muizenberg Station. Our office is situated 50 meters from Muizenberg train station on the main road.
Check out the train timetable for trains for Area South from Cape Town to Simon's Town (Simonstown).

Muizenberg Beach Club is a registerred non-profit company
MBC Youth Dev (Reg# 2011/134197/08)